Zenkgo
Share
Regular price
Sale price
$56.00
Unit price
per
Sale
Sold out
Women's Multivitamin + Probiotics 25B CFU by Zenkgo, Supports Immunity, Digestion, Energy, Daily Vitamins A, E, B6, B12, Plant-Based D3, K2 (MK-7), Folate, Minerals, Whole Food Organic Green (60 Ct)
A good multivitamin takes care of your guts.
Focused on filling women's nutrition needs & nutrition gaps from daily diet
4 in 1 solution: vitamins, minerals, probiotics, organic whole food
Carries probiotics of 25 billion CFU per serving
Fully natural, non GMO, gluten free, allergens free
| | |
| --- | --- |
| Form | Capsule |
| Count | 120 |
| Serving size | 2 |
| Days of supply | 60 |
| Diet type | Vegetarian |
| Age  | Adult |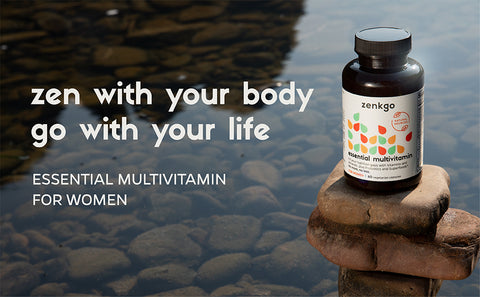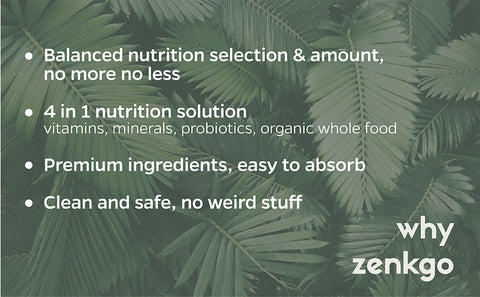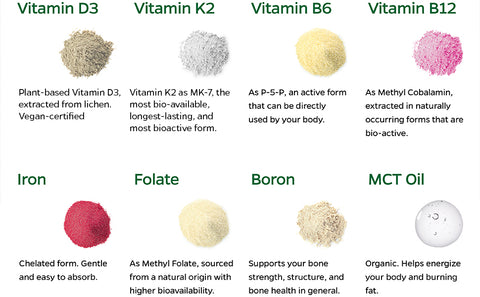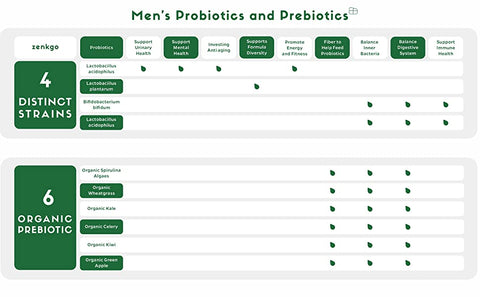 View full details
Section
Drop element here!
4 in 1 BALANCED FORMULA
An all-in-one multivitamin for women of essential vitamins and minerals, plus probiotics and organic whole foods sourced from nature. Each single nutrient matters and Zenkgo gives you just the right amount you need everyday, filling the nutritional gaps in your daily diet.
PROBIOTICS for GUT HEALTH
Packed with a proprietary probiotic blend with multiple strains and 25 billion CFU per serving to provide balanced support for your digestive and immune health. Our probiotic blend works in harmony with an organic green blend which serves as prebiotics to ensure better effect.
DAILY VITAMINS + MINERALS
Formulated with nutrients in optimal forms for potency and absorption to promote healthy bones, skin, hair and nails. We include Vitamins A, B6, B12, E, D3 (Vitashine️, Cholecalciferol, plant-based), K2 (MenaQ-7️ MK-7, plant-based), Folate (Methyl Folate), calcium, magnesium, zinc, iron and boron in chelated forms.
ORGANIC WHOLE FOODS + GREENS
An organic whole food blend of spirulina algae, spinach, wheatgrass, kale, celery, kiwifruit and green apple. It contains a variety of phytochemicals as antioxidants, and enzymes that support your healthy aging, immunity, energy and vitality.
CLEAN + SAFE - 100%
Natural, Vegetarian, Non-GMO, Gluten-Free. No silica, no major allergens (milk, eggs, peanuts, tree nut, fish, soy, gluten, and wheat), no artificial preservatives, flavors or colorants. All ingredients are natural and made in the USA at a GMP-certified facility.